A Guide to the DSO Online Application Process
Welcome to the DSO Client Area.
The DSO Client Area gives you a convenient and easy way to apply online for adult developmental services in Ontario. There are 3 steps in the application process.
Step 1: Setup your account
A. Complete the registration form
On the DSO home page (dsontario.ca) click "Register" and complete the "Registration Form".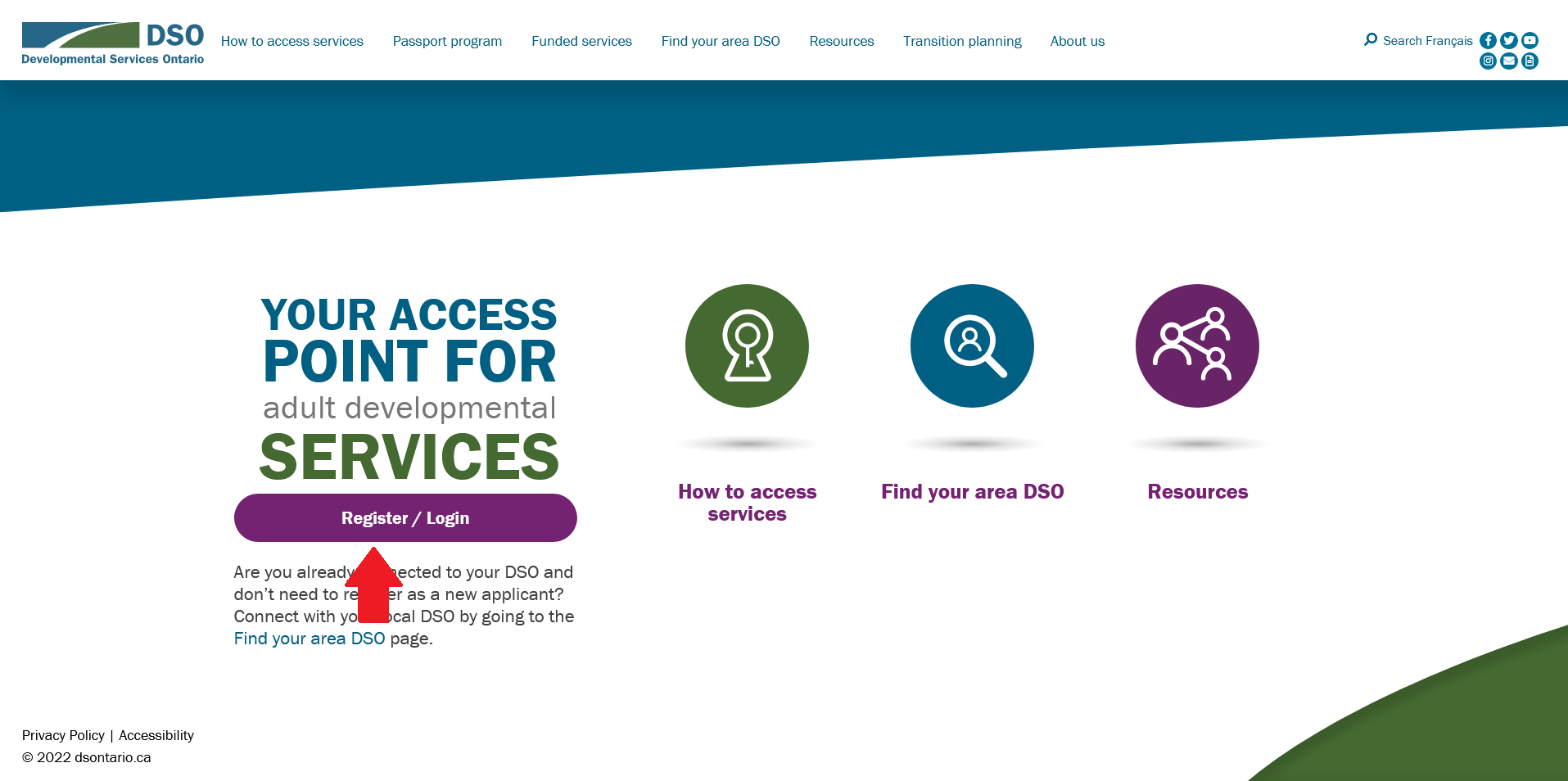 B. Activate your account
After submitting the Registration Form, an email will be sent to the Contact Email address you provided (not the Applicant Email, unless they are the same). Click the link in the email and log in using the user name or contact email and password you provided in the Registration Form. This will activate your account and take you to the DSO Client Area.
You can leave the DSO Client Area and log in again any time you like.
C. Send the consent form to DSO
Go to Next Steps in the DSO Client Area. Go to Step 1 and click "Download and read the Privacy Statement". Read the Privacy Statement.
Then go to Step 2 and click "Complete and sign the Consent Form electronically" to submit your consent electronically.
NOTE: If your DSO does not support electronic submission of the consent form or if you prefer not to submit it electronically, you will need to download the printable version of the consent form using the "Consent Form" link. Then you will need to complete, sign, and scan the consent form and send it back to your DSO using the "send back to your DSO" link.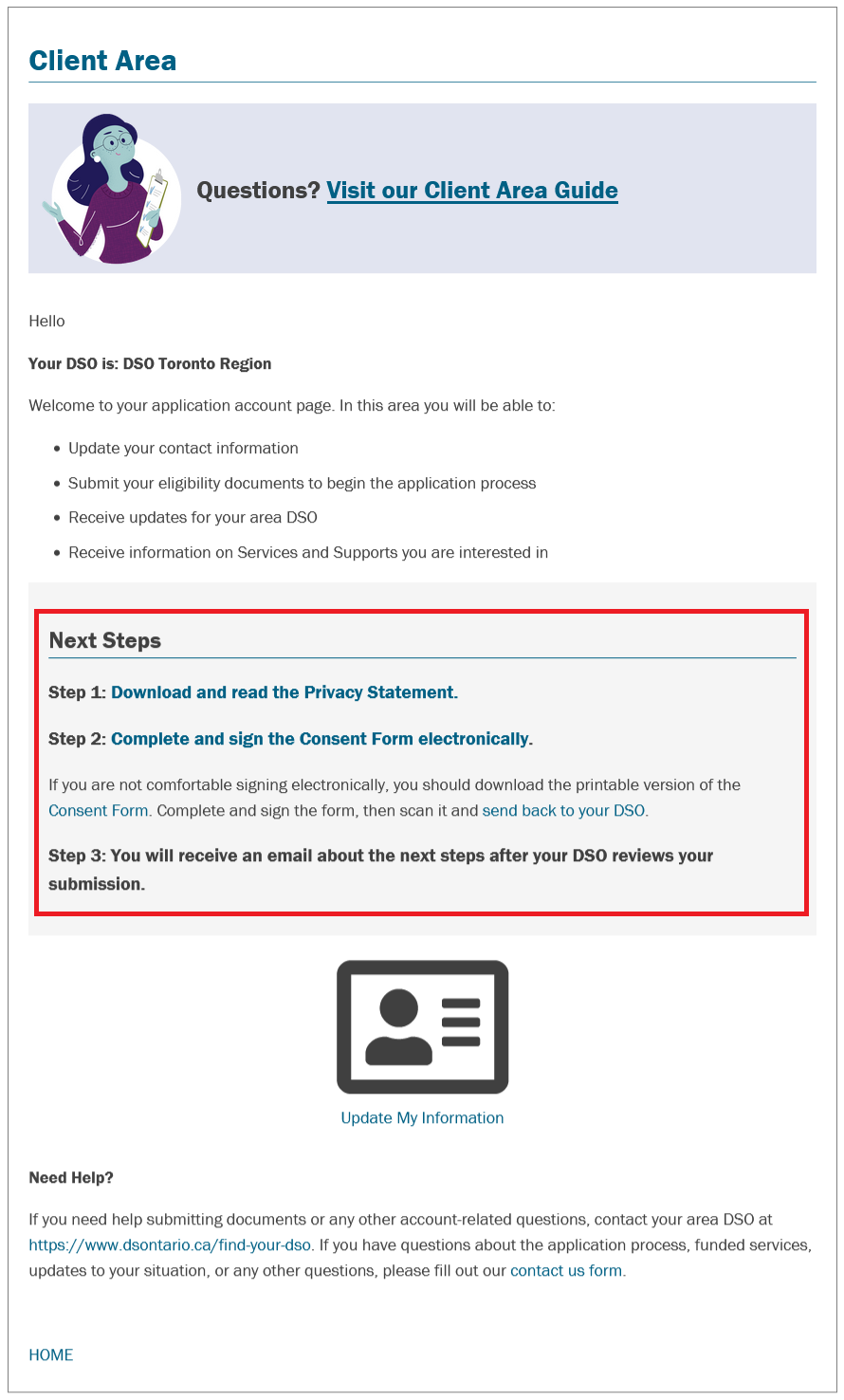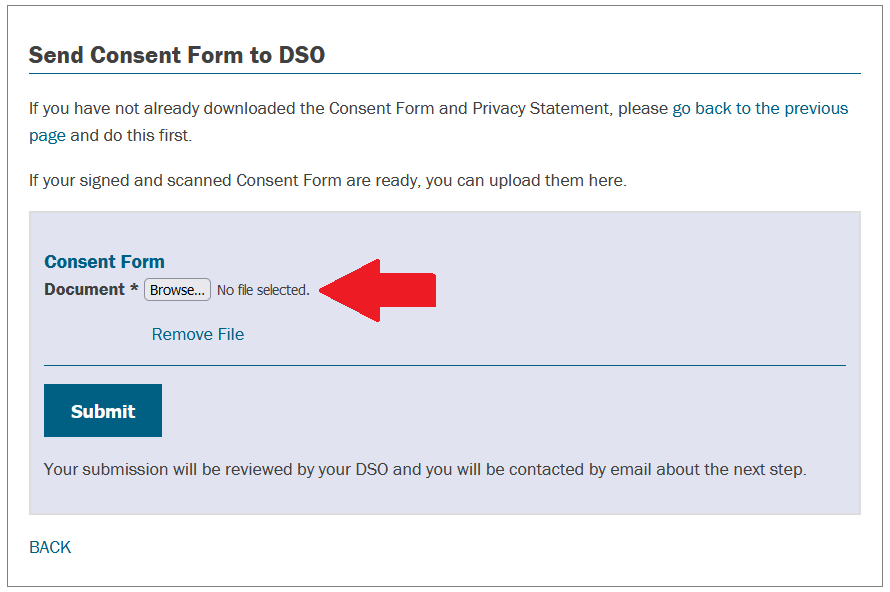 If you choose the wrong file before clicking Submit, you can remove it by clicking "Remove" or by choosing another file instead. If you accidentally submit the wrong file, you will need to contact your DSO Region to have it removed so you can upload a new one.
Once submitted, your DSO Region will review the Consent Form and send you an email with instructions on how to proceed to Step 2: Upload your eligibility documents. Please allow some time for this; it likely will not arrive immediately.
Step 2: Upload your eligibility documents
On the DSO home page (dsontario.ca), click "Login" to access the DSO Client Area. Use the username or email and the password you provided when you set up your account. Here, you will upload and submit documents that prove you have a developmental disability, live in Ontario, and are 16 years of age.
To upload your documents, click "My Documents and DSO Updates". The Required Documents form will tell you exactly what type of documents you must submit. On the form, choose the document type, click "Choose file" to select the document from your computer, and provide any comments if you have them in the box labelled "Optional Comment About This File".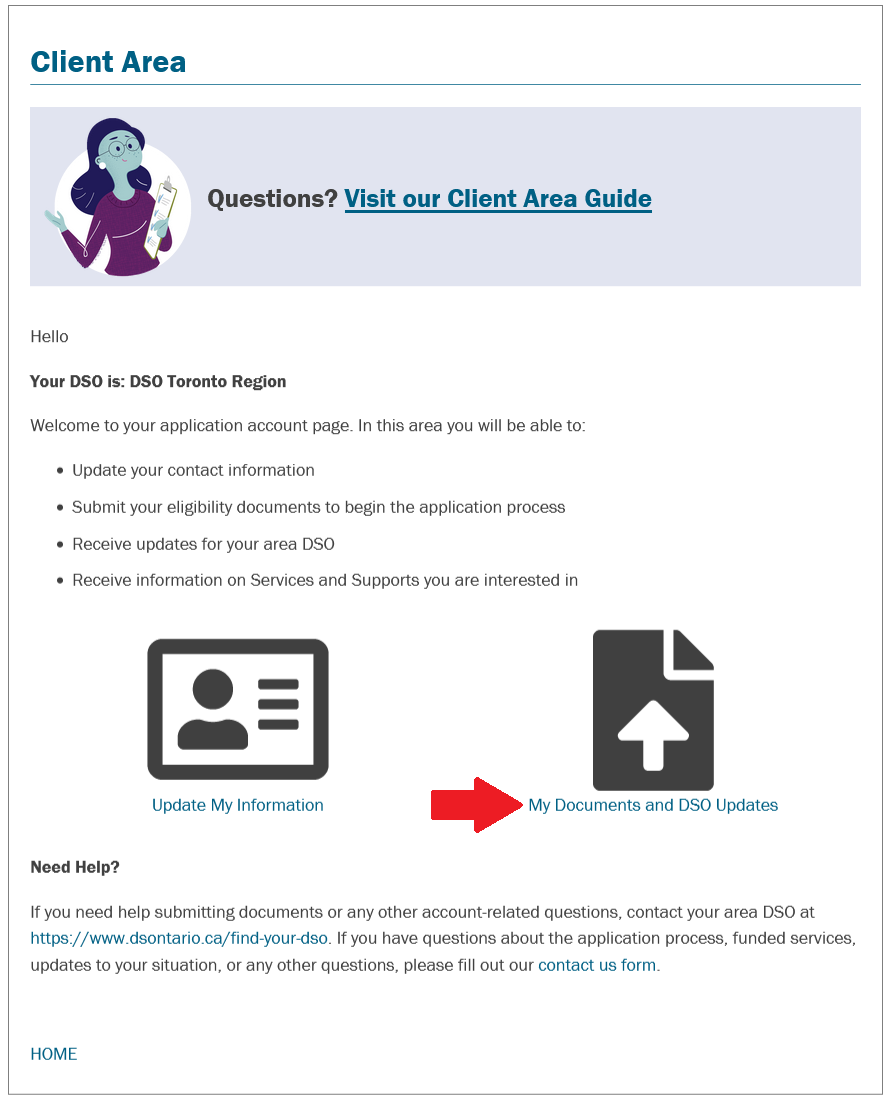 Note that the documents you upload must be in one of the following formats: GIF, PNG, JPEG or PDF.
Before you submit your documents, you may delete or change them. After you submit your documents, you can only delete or change them by notifying your area DSO (https://www.dsontario.ca/find-your-dso).
Once your documents are submitted, this step is complete.
Step 3: Document review and notice of eligibility
The final step in the application is the review of your documents by your area DSO. This may take some time.
To monitor the status of the review, click on "My Documents and DSO Updates". If DSO has any questions or updates about your documents, they will be posted there. You will also receive an email notice when a question or update is posted.
If there is a problem with any of your documents, DSO will remove the problematic document and ask you to upload a new one.
After each document is approved, it will be marked with a checkmark and labeled "Submission Accepted". When all of the documents are approved, you will see a note on the DSO Client Area page that reads:
All the documents that you submitted have been accepted by your DSO. Here is your Eligibility Letter.
Click "Eligibility Letter" to download your eligibility letter. The application process will then be complete.